DATE: 16th JULY , 12:00h (the workshop has a duration of aproximately 2h and after we eat all together)
PRICE: 49euro per person
WHERE: Apocapoc – Street Passatge de l'Hort dels Velluters, 5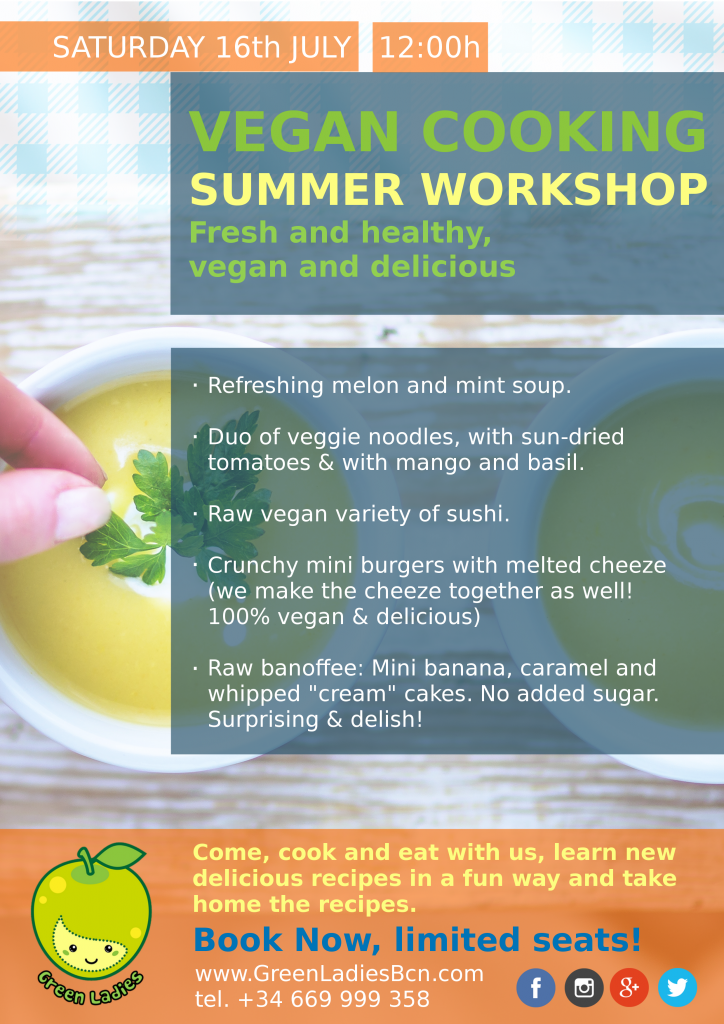 Do you want to come to cook new healthy and delicious recipes with us?
We, The Green Ladies want to make it easy to you and show you our summer star recipes, for you or for your guests, parties or family gatherings.
✿ The workshop will provide all the ingredients, will be mainly practical and at the end we will eat together all the recipes we have created.
If you are interested hurry up, the seats are limited. In order to book is mandatory to do a down-payment!
Workshop recipes:
✿ Refreshing melon and mint soup.
✿ Duo of veggie noodles, with sun-dried tomatoes & with mango and basil.
✿ Raw vegan variety of sushi.
✿ Crunchy mini burgers with melted cheeze (we make the cheeze together as well! 100% vegan & delicious)
✿ Raw banoffee: Mini banana, caramel and whipped "cream" cakes. No added sugar. Surprising & delish!
Book Now: For requests to book the Vegan Cooking Summer Workshop please fill-up the following form or contact, in order to book is mandatory to do a down-payment.